We are currently updating our site. Please check back for updates.
Missing and Murdered Indigenous Women and Girls Liaison Unit
The Missing and Murdered Indigenous Women and Girls (MMIWG) Liaison Unit was established in September of 2017. The Unit's primary function is to support families and communities who are impacted by missing and murdered Indigenous women and girls, survivors of violence, Two Spirit and gender diverse people. An integral part of the Unit's work is also focused on advocacy, building partnerships and relationships, prevention and awareness of all forms of violence towards Indigenous women and girls and Two Spirit and gender diverse people. A large component of the Unit's work is also focused on healing, reclaiming the spirit and empowerment.
The MMIWG Liaison Unit is recognized nationally and internationally. Through the Units participation and attendance throughout the National Inquiry and their work involving MMIWG, the Unit has established expansive connections with families and survivors, leadership, elders, technicians, and experts across the country.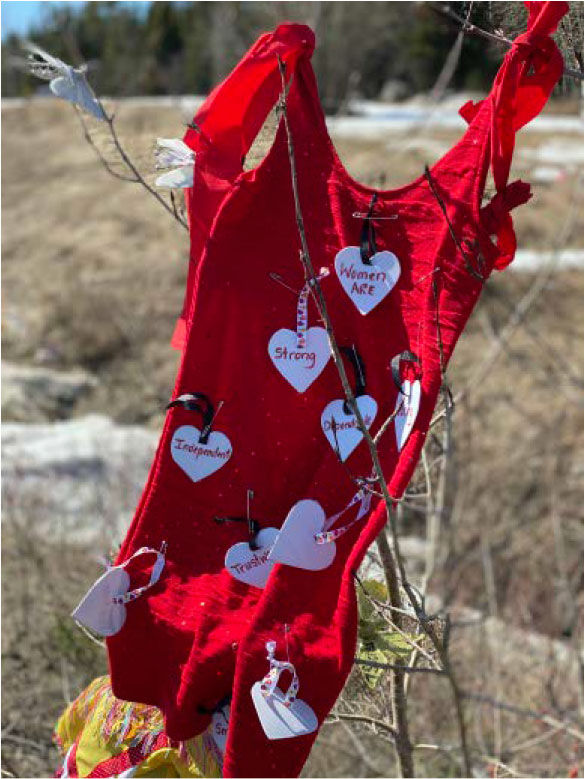 Community Involvement
The MMIWG Liaison Unit has successfully hosted many community gatherings and events in Thompson, Winnipeg, Brandon, and many of the First Nation communities in Manitoba. The MMIWG Liaison Unit is often consulted regionally, nationally and internationally for the important work they are carrying out.

For more information, contact:
Missing and Murdered Indigenous Women and Girls Liaison Unit
Manitoba Keewatinowi Okimakanak Inc.
Toll Free: 1.800.442.0488
Direct Line: 1.204.677.1648
Mobile: 1.204.307.0485
Resources for Family Members and Survivors of MMIWG
Healing services
Eyaa-Keen Healing Centre Inc.
547 Notre Dame Avenue
Winnipeg, MB
R3B 1S2
Tel: 204-783-2976
Fax: 204-284-7292
Toll free: 1-877-423-4648
Email: [email protected]
Website: www.eyaa-keen.org
The goal of Eyaa-Keen Healing Centre Inc. is to help people recognize and overcome their inner obstacles and give them the healing tools they need to lead productive, healthy lives. Individuals can choose to work with an Indigenous Behavioural Health Specialist, an Elder or a Traditional Healer to work through a series of sessions which take an Indigenous Traditional based therapeutic approach and gradually progress through active healing, learning and developing life-affirming practices.
Ikwe-Widdjiitiwin, Inc. (Women Helping One Another)
P.O. Box 1056
Winnipeg, MB
R3C 2X4
Tel: 204-987-2780
Fax: 204-987-2822
Toll free Crisis Line: 1-800-362-3344
Provincial Crisis Line: 1-877-977-0007
TDD Line: 1-800-561-6178
Ikwe-Widdjiitiwin provides emergency shelter for women and children who are victims of violence. Shelter counsellors are on duty twenty-four hours per day seven days per week to provide services, understanding and information on local services available. If service is required, please phone the shelter for the address. Services are available in most First Nations languages.
Ka Ni Kanichihk, Inc.
455 McDermot Avenue
Winnipeg, MB
R3A 0B5
Tel: 204-953-5820
Fax: 204-953-5824
Email: [email protected]
Website: www.kanikanichihk.ca
Ka Ni Kanichihk Inc. (Cree for those who lead) is a registered, non-profit, community-based Aboriginal human services organization formed in 2001. Ka Ni Kanichihk's mission is to provide a comprehensive range of culturally appropriate programs and services to meet the unique needs of Winnipeg's rapidly expanding Aboriginal community. The organization is committed to developing Aboriginal leadership, responding to issues that are both transformative and rooted in the restoration and reclamation of a positive and powerful cultural identity.
Since its inception, it has focused on issues of concern to women in the Aboriginal community. For example, one of its programs – Iskwewak Leadership Development – provides women who have been directly and/or inter-generationally affected by residential schools with a range of culturally-based and woman-centred educational and healing services.
Elders
Aboriginal Seniors Resource Centre Inc. (ASRC)
45 Robinson Street
Winnipeg, MB
R2W 5H5
Tel: 204-586-4595
Fax: 204-586-3283
Email: a[email protected]
Website: asrcwpg.ca
The ASRC is an autonomous non-profit corporation established to provide a holistic approach to promote the respect and well-being of Aboriginal seniors in Winnipeg. ASRC works to increase access to information, resources and supports that directly improve the health and well-being of Aboriginal seniors in Winnipeg. This is accomplished through:
providing opportunities for active involvement within the community as a means of achieving physical, emotional, mental and spiritual balance
outreach support and referrals to other Aboriginal organizations
providing opportunities for Aboriginal seniors to pass on traditional values and historical knowledge to younger generations
Hosting Ceremonies and Gatherings
Circle of Life Thunderbird House
715 Main Street
Winnipeg, MB
R3B 3N7
Tel: 204-940-4240
Fax: 204-940-4243
Email: [email protected]
Website: www.thunderbirdhouse.com
The Circle of Life Thunderbird House is a place where community can share their culture and sense of spirituality with the rest of Winnipeg. It is a unique concept which recognizes the urban community's impact on the area—a delicate balance of economic, social and cultural concerns. It is a place for exploring the ways of Indigenous community's past and present, and where we can truly claim ownership and pride.
Being a space primarily meant to host ceremonies, Circle of Life Thunderbird House tries its best to accommodate all ceremonial requests from the community. They also rent space for organizational meetings, community events and programming.
Financial Counselling
Community Financial Counselling Services, Inc. (CFCS)
516 – 294 Portage Avenue
Winnipeg, MB
R3C 0B9
Tel: 204-989-1900
Fax: 204-989-1908
Toll free: 1-888-573-2383
CFCS is a not-for-profit United Way Member Agency, and an accredited member of Credit Counselling Canada. CFCS offers credit and financial counselling that includes debt solutions and options, budgeting and spending plans, detailed assessments of your financial situation and consumer education/information.
Addictions-related Issues
Behavioural Health Foundation, Inc.
35 De la Digue, Box 250
St. Norbert,
R3V 1L6
Tel: 204-269-3430
Fax: 204-269-8049
Email: [email protected]
The Behavioural Health Foundation Inc. Is accredited by the Commission of Rehabilitation Facilities (CARF). It provides long-term residential programming for men, women and family units that are experiencing a variety of problems that almost always including addictions.
Men's, Women's and Family Addiction Treatment Services
Other Support Services such as on-site childcare services are available to allow parents maximum program involvement. A physician is under contract for weekly visits or as required, and the facility employs a full-time clinical therapist.
AA Alcoholics Anonymous – Manitoba
Central Office
1856 Portage Avenue
Winnipeg, MB
R3J 0G9
Tel: 204-942-0126
Fax: 204-957-5024
Email: [email protected]
Self-help groups for persons suffering from alcoholism.
Addictions Foundation of Manitoba
Head Office
1031 Portage Avenue
Winnipeg, MB
R3G 0R8
Tel: 204-944-6200
Fax: 204-786-7768
Website: www.afm.mb.ca
Toll free: 1-866-638-2561
AFM is a Crown agency that is committed to being a foundation of excellence in providing addictions services and supporting healthy behaviors. AFM employs over 400 staff and provides a wide range of addictions services to Manitobans through 28 locations across the province.
At least one in five Canadians experience problems with alcohol, drugs or gambling during their lifetime. Many more are affected by someone they care about experiencing these struggles. People of all ages and backgrounds experience these issues – and make positive changes with the help of AFM.
Native Addictions Council of Manitoba
160 Salter Street
Winnipeg, MB
R2W 4K1
Tel: 204-586-8395
Fax: 204-589-3921
Email: [email protected]
The Native Addictions Council works with other agencies and offers the following services:
assistance, counselling and referral for First People regarding alcohol abuse
prevention and education on addictions
an out-patient centre and group counselling
management of Pritchard House, an in-patient 20 bed facility for the treatment of addictions
Transition Support
Native Women's Transition Centre Inc.
105 Aikins Street
Winnipeg, MB
R2W 4E6
Tel: 204-989-8240
Fax: 204-586-1101
Email: [email protected]
Intake: 204-998-8244 or 204-989-8251
A safe home for Aboriginal women (and their children) who are in the process of changing their current life situation. The centre is a place where there is support and access to resources to enable growth and develop skills in becoming more self-determining persons. The centre offers a first or second stage program, which is a one year residency.
North End Women's Centre, Inc.
394 Selkirk Avenue
Winnipeg, MB
R2W 2M2
Tel: 204-589-7347
Fax: 204-586-9476
Email: [email protected]
The centre is open on a drop-in basis for women to socialize, use the phone or have a coffee. Programs include the "Up Shoppe" (for Women, Children and Men), which offers clothing articles at a very low price (free of charge to women in need on the basis of a referral). Up Shoppe is open Monday to Thursday 9 a.m. to 4:30 p.m. and Friday 9 a.m. – 4 p.m.
The North End Women's Centre offers various counselling programs during the year, including:
individual counselling
healthy anger
parenting program group
grief and loss group
healthy relationships group
There are also information sessions and numerous workshops available throughout the year, including addictions recovery and housing support programs.
The centre's hours are:
Monday – Thursday 8:30 a.m. – 4:30 p.m.
Friday 8:30 a.m. – 4:00 p.m.
Mental Health Services
Haven
Tel: 204-946-9404
Haven offers 24-hour care to males living with a mental illness. This includes a life skills program, activities and group work.
Residential Services
180 Henry Avenue
Winnipeg, MB R3B 0J8
Tel: 204-946-9400
This program provides separate overnight accommodation for adult men and women 18 years and over with short term stays available. Mothers accompanied by dependent children can be accommodated.
Shelters on Reserves
First Nation Healing Centre
Fisher River Cree Nation
Koostatak, MB
R0C 1S0
Tel: 204-645-2750
Fax: 204-645-2546
Mamawihetowin Crisis Centre
Mathias Colomb Cree Nation
Pukatawagan, MB
R0B 1G0
Tel: 204-553-2198
Fax: 204-553-2302
Women's Crisis Centre
Shamattawa, MB
R0B 1K0
Tel: 204-565-2548
Fax: 204-565-2544
NCN Women's Shelter
20 Otetiskiwin Drive
Nelson House, MB
R0B 1A0
Tel: 204-484-2634
Fax: 204-484-2635
Email: [email protected]
Willow Place Inc.
P.O. Box 1786
Winnipeg, MB
R3T 2Z9
Tel: 204-615-0313 ext. 0
Fax: 204-615-1077
24-hour Crisis Line: 204-615-0311 or 1-877-977-0007
Willow Place is a family violence agency supporting transformation, healing and healthy relationships. It was incorporated in April 2015, maintaining Manitoba's long standing tradition of providing services for women and their children who have experienced family violence.
They provide:
24-hour crisis line
emergency shelter in Winnipeg for women and their children leaving family violence situations
one to one and group counselling
follow-up services
advocacy and links to community supports
outreach and prevention services
Medical Services
Winnipeg Regional Health Authority Indigenous Health
Patient services: 1-877-940-8880
General information: 204-940-8881
Email: [email protected]
Website: www.wrha.mb.ca/indigenoushealth/
WRHA Indigenous Health builds capacity within the Winnipeg health region to support the holistic needs of First Nations, Metis, and Inuit people.
WRHA Indigenous Health works with Regional programs and facilities in helping identify, develop and implement culturally safe environments, practices and services. WRHA Indigenous Health also provides a range of services for staff, community members, patients and patients' families through its Patient Services, Workforce Development and Cultural Initiatives programs.
Indigenous Language InterpretationInterpreter Resource Workers provide Indigenous language interpretation in Cree, Ojibway, and Oji-Cree languages to support with full or partial language barrier patients. Interpreters have training in medical terminology and function as members of the health-care team. Services are available Monday to Friday 8:30 a.m. to 11 p.m.
Resource CoordinationInterpreter Resource Workers also support Indigenous patients by helping them navigate the health-care system and connect with additional support services and organizations. This work begins with an assessment that identifies gaps in care, transportation and discharge needs. Services are available Monday to Friday 8:30 a.m. to 11 p.m.
Patient AdvocacyRegional Indigenous Patient Advocates work on behalf of patients both in hospital and in the community to support their needs and rights. The advocate also partners with Assembly of Manitoba Chiefs Patient Advocacy Unit to make sure individuals who live outside of Winnipeg have support.
Discharge PlanningRegional Discharge Planning Coordinators work as part of your health-care team to plan patient discharges. This is to make sure that everyone involved (community, government, health facilities, etc.) have a plan for you or your family member as they leave hospital. This may involve planning health care in the home community, transportation, housing and medical equipment.
Spiritual & Cultural CareSpiritual/Cultural Care Providers can perform ceremonies and provide support for patients and their families. Many hospitals host smudges and other ceremonies.
Traditional Wellness Clinic is open to everyone and offers support using a traditional healing approach. The clinic is located at Health Sciences Centre and is open two days each month. Appointments can be made by calling 1-877-940-8880.
Aboriginal Health and Wellness Centre of Winnipeg, Inc.
Room 215 – 181 Higgins Avenue
Winnipeg, MB
R3B 3G1
Tel: 204-925-3700
Fax: 204-925-3709
Email: [email protected]
The Aboriginal Health and Wellness Centre of Winnipeg, Inc. is a community based and culturally based centre that provides holistic services to the Aboriginal community of Winnipeg. The AH&WC's philosophy is rooted in traditional Aboriginal culture. A healthy person is one who achieves and maintains balance among four elements: body, mind, spirit and emotions. The Aboriginal Health and Wellness Centre offers healing services and resources from both traditional and Western practices. The Aboriginal Health and Wellness Centre is a primary health care facility funded by WRHA (Winnipeg Regional Health Authority). Its hours of operation are:
Physicians and Nurses: Monday – Friday 8:30 a.m. – 4:30 p.m.
Traditional Healer/Elder: varies throughout the month
Please call 204-925-3700 for more information and appointments
The Aboriginal Health and Wellness Centre offers many programs including: Head Start, Fetal Alcohol Syndrome/Effects Education Program, Abinotci Mino-Ayawin (children's healing), a Men's Healing Wellness Program, Women's Healing Program, and an Indian Residential School-Alternative Dispute Resolution Program.
Hope Centre Health Care, Inc.
240 Powers Street
Winnipeg, MB
R2W 5L1
Tel: 204-589-8354
Fax: 204-586-4260
Email: [email protected]
Hope Center Health Care Inc. is a charitable organization that began in 1982. Hope Centre Health Care Inc. is designed to be a place for people to find hope for spiritual, emotional, physical and social healing. Counselling and community outreach services include:
individual, couple, family and group counselling
crisis counselling
support and advocacy
group programs
information
special events and workshops
home visits and referrals
general medical care (by appointment only)
sexually transmitted disease testing and treatment
pregnancy tests, prenatal care and birth control
pap tests (cervical cancer screening)
diabetic management and education
foot care
emergency food
shoe closet
community garden
public computers and Internet access
The Centre is open Monday, Tuesday, Thursday and Friday from 9 a.m. to 5 p.m. and Wednesdays from 10 a.m. to 5 p.m. Please note they are closed daily from 12 p.m. to 1 p.m. for lunch.
Klinic Community Health Centre
870 Portage Avenue
Winnipeg, MB
R3G 0P1
Tel: 204-784-4090
Email: [email protected]
Website: http://www.klinic.mb.ca
Klinic is a non-profit, community based health and social services centre located in the core area of Winnipeg. It provides medical and community services to the surrounding community, as well as providing specialized crisis, sexual assault, family abuse counselling services and public education and training for the greater Winnipeg community and occasionally for those persons in rural and northern areas of the province.
Klinic promotes health and quality of life for all. It helps people make choices about their own health in a context which is culturally sensitive and supportive of personal and community development. It also seeks to address the special needs of our neighbourhoods and helps communities organize on issues of concern; and it looks to its community for direction.
Specific services include:
medical appointments, Teen Klinic, information: 204-784-4090
community services outreach: 204-784-4020
24-hour crisis/suicide line: 204 786-8686/888-322-3019
24-hour sexual assault crisis line: 204 786-8631/888-292-7565
deaf access line TTY crisis / suicide / sexual assault crisis line: 204-784-4097
crisis counselling intake: 204-784-4059
sexual assault counselling appointments: 204-784-4049
domestic abuse counselling (Evolve) intake line: 204-784-4208
public education and training: 204-784-4066
volunteer information: 204-784-4006
administrative fax: 204-772-7998
medical fax: 204-784-4013
Mount Carmel Clinic
886 Main Street
Winnipeg, MB
R2W 5L4
Tel: 204-582-2311
Fax: 204-582-1341
People are at the heart of Mount Carmel Clinic – Canada's first community health centre designed to meet the needs of both individuals and families. The Clinic offers a broad range of medical, nursing, diagnostic, pharmaceutical, dental, social and outreach services, cross- cultural counselling, teen clinic and community education services. All services are offered using a respectful, non-judgmental and collaborative approach to working together for a healthy community. A children's day hospital and Anne Ross Day Nursery offer childcare, special needs programming and family support.
The Clinic is open:
Monday to Friday 8:45 a.m. to 5 p.m.
Tuesday and Thursday evenings to 8 p.m.
Saturday open from noon to 4 p.m. for Teen Clinic only
Anne Ross Day Nursery 7:30 a.m. to 5:30 p.m.
First Nations Health and Social Secretariat of Manitoba
Head Office:
472 Madison Street
Winnipeg, MB
R3J 1J1
Tel: 204-942-9400
Fax: 204-946-9768
Sub-Office:
Suite 1700 – 275 Portage Avenue
Winnipeg, MB
R3B 2B3
Tel: 204-946-9735
Fax: 204-946-9768
To continue the advancement of eHealth and Information & Communication Technology (ICT) services that support health care delivery in order to have better health outcomes for Manitoba First Nations (MFNs), as per the MFNs eHealth Long Term Strategy (eHLTS).
Nine Circles Community Health Service
705 Broadway
Winnipeg, MB
R3G 0X2
Tel: 204-940-6001
Fax: 204-940-6003
Toll free: 1-888-305-8647
STI line: 204-945-2437
Nine Circles offers a peer outreach program aimed at HIV-hepatitis C prevention, and services for Aboriginal people with HIV. Staff includes an Elder who conducts Healing Circles.
Sagkeeng Mino Pimatiziwin Family Treatment Centre Inc.
Box 84  Fort Alexander, MB R0E 0P0
Tel: 204-367-2172
Fax: 204-367-2324
Toll free: 1-866-329-0736
Website: http://www.sagkeengfamilytreatment.ca/
Selkirk Mental Health Centre (SMHC)
Aboriginal Services and Spiritual Health Care Program
825 Manitoba Avenue
PO Box 9600
Selkirk, MB R1A 2B5
Toll free: 1-800-881-3073
Tel: 204-482-3810
Fax: 204-785-8936
Email: [email protected]
Website: www.gov.mb.ca/health/smhc
SMHC is a 252-bed facility that provides specialized in-patient mental health and acquired brain injury treatment and rehabilitation services to residents of Manitoba whose challenging needs cannot be met elsewhere in the provincial health care system. SMHC also provides mental health services to people from the Territory of Nunavut without locally available in- patient mental health facilities. Services are provided through five specialized patient programs:
acute
geriatric
rehabilitation
forensic
acquired brain injury
SMHC's Aboriginal Services and Spiritual Health Care Program provides Aboriginal (First Nation, Metis or Inuit) patients with access to culturally appropriate programs and services to support them in meaningful ways during their stay and to lessen the feelings of isolation from their home communities. The program also aims to reduce stigma and myths by educating patients and staff about the Aboriginal culture and the impact of residential schools. Services include:
providing individualized supports and social interactions with patients
assisting in cultural recreational/vocational and educational activities and programs
assisting individuals and groups understand the traditional culture, social and spiritual relevance of activities and events
translation services in some languages
spiritual guidance provided by Elders, to support and assist patients in their well- being and recovery journey
cultural teachings
awareness training for patients and staff
sweat lodge ceremonies
smudging
other traditional, spiritual ceremonies as requested
The Northern Connection Medical Centre (NCMC)
425 Elgin Avenue
Winnipeg, MB
R3A 1P2
Tel: 204-940-8777
NCMC provides primary care and other medical services for northern and remote residents who are temporarily in Winnipeg, while at the same time helping train medical residents to become family physicians who will work in northern and remote locations.
Women's Health Clinic
419 Graham Avenue, Unit A
Winnipeg, MB
R3C 0M3
Tel: 204-947-1517
Fax: 204-943-3844
TTY: 204-956-0385
Email:  [email protected]
Website: www.womenshealthclinic.org
Started in 1981, Women's Health Clinic is a feminist, community based health centre offering a range of services to women from teens to elders. Our holistic approach emphasizes prevention, education and action. We encourage women to learn all they can about what contributes to their health and well-being, so they can make informed choices.
Women's Health Clinic offers:
health and wellness services, which are women-centred, non-judgmental and fully confidential
advocacy and research on issues of concern to women's health
health education to community and professional groups
resources and information
training and experience for volunteers and students
The clinic helps bring together agencies and individuals for education and action on issues such as birthing and midwifery, new reproductive and genetic technologies and health reform. The clinic serves as the Manitoba base for the newly formed Canadian Women's Health Network and is a partner in the Prairie Women's Health Centre of Excellence.
Women's Health Clinic Hours of Operation:
Monday, Tuesday, Wednesday & Saturday 9 a.m. – 8 p.m.
Thursday 9 a.m. – 9 p.m.
Friday 9 a.m. – 4:30 p.m.
Teen Clinic Thursday 3 p.m. – 8 p.m.
Arrangements for Medical Service:
Medical Services – Referral Unit
300 – 391 York Avenue
Winnipeg, MB R3C 4W1
Tel: 204-983-4199
Fax: 204-983-6018
Other Medical Services:
Dial-A-Life Housing, Inc.
100-130 Watson Street
Winnipeg, MB R2P 1Y4
Tel: 204-694-9170
Fax: 204-632-5963
This housing program provides suitable and affordable housing for medically displaced persons and their families of Aboriginal ancestry. It will be home to Aboriginal patients who have reached end stage renal disease and have to relocate to Winnipeg for dialysis. Dial-A- Life provides a good home environment for those having to leave the reserve and adjust to city living.
First Nations and Inuit Health Branch (Health Canada)
300 – 391 York Avenue
Winnipeg, MB R3C 4W1
Tel: 204-983-4199
Fax: 204-983-6018
North Zone Office:
Suite 202 – 83, Churchill Drive
Thompson, MB R8N 0L6
Tel: 204-677-6980
Fax: 204-677-7007
About First Nations and Inuit Health Branch:
First Nations and Inuit Health Branch supports the delivery of public health and health promotion services on-reserve and in Inuit communities. It also provides drug, dental and ancillary health services to First Nations and Inuit people, regardless of residence. The Branch also provides primary care services on-reserve in remote and isolated areas, where there are no provincial services readily available.