Thompson Urban Aboriginal Strategy (TUAS)
Established in 2005 TUAS, operates as a community-based strategic planning committee that provides an environment for collaboration, dialogue, and alignment for strategic efforts and investments focused on improving social and economic opportunities of Aboriginal people living in Thompson.
The Thompson Urban Aboriginal Strategy (TUAS)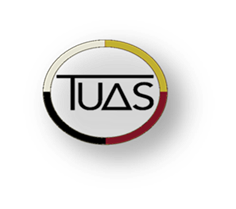 The Thompson Urban Aboriginal Strategy (TUAS) established in 2005, operates as a community-based strategic planning committee that provides an environment for collaboration, dialogue, and alignment for strategic efforts and investments focused on improving social and economic opportunities of Aboriginal people living in Thompson. The committee, inclusive of education, industry and local business, and provincial and municipality representation is comprised of the following key stakeholders;
Aboriginal Affairs and Northern Development Canada
Aboriginal Northern Affairs
Canadian Mental Health Association/Thompson Homeless Shelter
City of Thompson
Keewatin Tribal Council
Ma-Mow-We-Tak Friendship Centre
Manitoba Housing
Manitoba Hydro
Manitoba Keewatinowi Okimakanak Inc.
Manitoba Metis Federation
School District of Mystery Lake
Thompson Chamber of Commerce
Thompson Neighbourhood Renewal Corporation
University College of the North
Vale
YWCA
Each organization provides a representative who attends regular monthly meetings and participates in the TUAS activities. An executive comprised of a chairperson and vice-chairperson, ensure coordination of committee meetings is taking place and implement the decisions of the committee. The TUAS Coordinator is responsible for tasks as directed by the executive.
From the previous strategic planning session, community consultation survey feedback, and a follow up meeting, the TUAS committee has determined that the six previous priority areas (often referred to as the "pillars"), are still relevant and will remain in place.
An additional priority that of Relationships & Collaboration within the TUAS itself, and with the Thompson Aboriginal Accord (TAA) has been added. The number of priority areas focused on each year will be dependent on funding, resources, available time, community feedback, etc. so this will be determined annually. Detailed action plans for each priority area, will be drawn up annually, with a focus on one to two key goals of a priority area.
The action plans will include detailed objectives, strategies and tactics for the key goals. In addition, all work will be done in the spirit of reconciliation and will be influenced and guided by the TRC Calls to Action. Therefore, based on this, each priority area is listed, along with identified key goals.
1) Culture
Our cultural identity informs our worldviews, beliefs, values, practices, and self-perceptions, and is at the core of who we are as individuals and collectively, as a people. Loss of language, colonization, and the effects of residential schools have had traumatic effects on Aboriginal people, has distorted the views of non-Aboriginal people, and has resulted in cultural misunderstandings and racism.
Key Goals:
increase awareness and understanding of Aboriginal culture, both traditional and contemporary
reclaim Aboriginal identity and pride by supporting efforts towards a corrective history of Aboriginal People in Canada, specifically Northern Manitoba
2) Education & Training
High drop-out rates and low graduation rates amongst Aboriginal people has resulted in low education levels, with a potential workforce that has limited skills. Lack of relocation supports, lack of cultural proficiency in education systems and lack of engagement in education systems has also contributed to this deficit.
Key Goals:
increase educational opportunities
support life skills and pre-employment programs
increase relocation supports
3) Employment
Numerous studies have shown that although Thompson has been ranked among the top 10 wealthiest small cities, access to opportunities that lead to such prosperity is disproportionate between urban Aboriginal people and non-Aboriginal people. There are significant barriers and challenges facing Aboriginal people, that includes socio-economic issues (child-care, housing, racism), lack of essential skills (also referred to as the 9 Essential Skills), inadequate programs and content, lack of collaboration among stakeholders (government, industry, educational institutions and service providers), and systemic issues (disincentives, lack of employment opportunities, apprenticeship opportunities, and financial barriers).
Key Goals:
increase opportunities for employment by assisting workplaces in establishing a representative Aboriginal workforce.
collaborate with stakeholders to provide supports in the workplace
4) Housing
Despite several housing successes over the past few years (Our Home Kikinaw, UCN student housing, Project Northern Doorway, Fox Bay Dens, and the Thompson Homeless Shelter), safe, affordable housing continues to be a huge issue for many urban Aboriginal people. Although the TUAS is limited in what it can offer in terms of funding and/or resources, some key goals have still been identified.
Key Goals:
provide support through advocacy
collaborate with partners
promote community cultural proficiency education to help combat discrimination
5) Women & Children
Women and children have limited opportunities and access within the community. Some of the underlying causes are identified as lack of childcare, family violence, lack of empowerment, and lack of community supports.
Key Goals:
develop capacity and increase opportunities for employment and childcare
6) Youth
For many reason, some of which are low education levels, lack of cultural proficiency within the school system, family addictions and issues, and intergenerational trauma, there is a lack of engagement in school and a disconnection from the community as a whole.
Key Goals:
Increase opportunities for Aboriginal youth to connect to Aboriginal culture
Advocate for and support land-based education programming
Advocate for affordable and accessible recreational activities
Direct Investments of over $5,000,000 in the last 12 years (This does not include leveraged dollars and in-kind supports).
History of the TUAS Program
MKO was the previous TUAS contribution agreement holder, however due to funding cap that came into effect MKO was then unable to hold the agreement as it would have taken MKO over the funding limit allowable.
In 2014, shifts in government priorities and changes in departmental allocations to urban and First Nations initiatives, changed how dollars were disbursed, thus creating confusion, isolation, and competition between partnering organizations.
The City of Thompson was then named the agreement holder, MKO is now the agreement holder and has a 2-year commitment to serve as the Project Administrator and will work in cooperation with the TUAS steering committee to ensure that appropriate staffing is in place and personnel matters are handled professionally and under a fair policy. MKO will ensure the activities are implemented in a manner that is consistent with the direction that is provided by the TUAS steering committee, community customs and engagement of leadership, and will assure integrity through its professional handling of finances, evaluation and project implementation overall.
TUAS has direct Investments of over $5,000,000 in the last 12 years (This does not include leveraged dollars and in-kind supports).
MKO has a vested stake in the Thompson Urban Aboriginal Strategy and recognize that it is an important component within our organization.  Aboriginal people represent 60% of Thompson's total population, TUAS provides MKO an opportunity to assist and support efforts to enhance opportunities for Aboriginal people residing in Thompson, as such MKO will be the bridge from First Nation to Urban transitions.
An important highlight of the TUAS is that it has been instrumental in the creation of the Thompson Aboriginal Accord with the collaborative effort of the City of Thompson (in 2009.) through community involvement and consultation.
The Accord is a ground breaking document that recognizes the role of Aboriginal people in our history and affirms its partners' commitment to strengthening relationships with Aboriginal governments and peoples. The Thompson Aboriginal Accord (TAA) is one of only a few of its kind in Canada today.
As a living document, the Accord is not a single one-time event, but an ongoing responsibility adopted by signatories and partners who continue to meet and collaborate throughout the year. The Thompson Aboriginal Accord has received nation-wide coverage due to the on-going diligent efforts of the TUAS.
TUAS continues to work to assist and maintain the integrity of the commitment to the Aboriginal People of Thompson within the Thompson Aboriginal Accord-TAA.
TUAS and the Thompson Aboriginal Accord (TAA)
Manitoba Keewatinowi Okimakanak (MKO) Inc.'s Thompson Urban Aboriginal Strategy (TUAS) is seeking to implement a plan that will create the framework for restructuring the commitments of the Thompson Aboriginal Accord (TAA) with strategic planning sessions to progress towards a five-year framework plan to:
strengthen all partnerships within the MKO TUAS;
revitalize the partnership with the TAA;
increase collaboration;
re-examine governance, individual, and organizational commitment and community engagement on a regular basis;
create awareness of and celebrate accomplishments of partners to create a accountability plan.
The TAA consists of the Mayor, City Manager, city council members, and key signatories of the living document. MKO's Thompson Urban Aboriginal Strategy will be called upon to further discuss the need for implementation and facilitation of a strategic plan session. The history of the TAA and MKO TUAS contribution of the creation of the TAA and the critical need to re-define their working relationship with TUAS.
Accomplishments of the TUAS
Our Home Kikinaw (TNRC)
Advocacy for UCN Housing
Project Northern Doorway (Thompson Housing Agency)
Fox Bay Dens – Student Housing Capital (MMWTFC)
Thompson Homeless Shelter
Panelization Plant Feasibility Study (TNRC)
MAPS (supported 4 phases of program development)
Little Muks Daycare- MMWTFC
HIPPY Program – MMWTFC
Home Daycare Project training women to open home daycares CFNCD Family Childcare Strategy – 3 phases
Young Parenting Program – Marymound/Futures
CEPS – MKO
Land Based Education Program – SDML
Strengthening Literacy – SDML
Northern Circle of Youth – MMWTFC
Safer Choices Community Awareness Program – BRHA
Building Bridges to Reconciliation Series- For Youth
Cultural Proficiency – SDML
Aboriginal Accord – Partnership creation
Winterfest Cultural Activities
Aboriginal Art Centre for Northern Manitoba (3 phases)
RD Parker Art Project at McCreedy Park
Building Bridges to Reconciliation Series
Gathering our Nations, Sharing our Knowledge Conference-UCN
MKO Culture Camp Youth
Family Gatherings – MMWTFC
Arbour Development at new UCN Campus
Return of the Sundance – White Wolf Medicine Society/TNRC
Cree Language Resources (first mobile lab) – SDML
Employment Links Program – KTC
Boys & Girls Club Training & Employment program
Aboriginal Student Success through Music, Literacy, and Family, Cultural component – SDML
Career Workshop – YWCA
Girls Exploring Trades and Technology – UCN
Resource Rangers – MKO
Employers Best Practices Handbook
Building Bridges to Reconciliation Series- Staff and Leadership
TUAS Future Plans
As TUAS moves forward into the future the TUAS Executive & Committee resolve to continue to strengthen the TUAS mandated objectives of the terms of reference as follows:
TUAS members will collaborate and align our collective and strategic efforts to support Thompson's Urban Aboriginal Community.
TUAS will focus on promoting increased urban Aboriginal participation in the economy by addressing the priorities that have been identified by the community.
To be responsible for ensuring commitment, continuity, accountability and integrity of the Thompson Urban Aboriginal Strategy (TUAS) by providing expertise and direction on planning and implementation of community initiatives, for the advancement and empowerment of the urban Aboriginal population.
To continue to support and work with Thompson Aboriginal Accord partners.
Serve as an advisory committee to community stakeholders on Urban Aboriginal issues.
Discuss the purpose and intent of the Thompson Aboriginal Accord, its partners and signatories.
Commitment to a collaborative planning process that includes co-creating tangible action plans.
Strengthen relationships.
Kinanaskomitinan,
Masi Cho,
Meegwetch,
Thank you,
On behalf of the Thompson Urban Aboriginal Strategy (TUAS) COORDINATOR
SHYANNA LYNXLEG
Manitoba Keewatinowi Okimakanak Inc.