For immediate release
May 15, 2020
Treaty Five Territory, Thompson, MB – Manitoba Keewatinowi Okimakanak Inc. (MKO) is issuing this media release in partnership with the Tataskweyak Cree Nation to sound the alarm over issues related to Manitoba Hydro's operation of the Keeyask construction site in Northern Manitoba.
"First Nations in Northern Manitoba are extremely concerned with the plans Manitoba Hydro has to bring in people from across Canada and the United States to the Keeyask construction site in a few days from now," shared Grand Chief Garrison Settee. "I am disappointed that despite multiple and ongoing calls for action, Manitoba Hydro continues to ignore the concerns expressed by First Nations. I am urging leaders at all levels to work cooperatively with MKO to prevent the spread of the COVID-19 virus to Northern Manitoba. We must work together to protect First Nations people from COVID-19."
MKO First Nations have been calling on Manitoba Hydro for the closure of the Keeyask construction site since March 2020. Manitoba Hydro plans to implement a shift transition starting on May 19, when they will allow 700 current employees at Keeyask to leave the site to return home. Manitoba Hydro will bring in 1000 to 1200 new employees to the site. Staff will come from various parts of Canada and the United States, including regions hit hard by COVID-19 such as Quebec and British Columbia.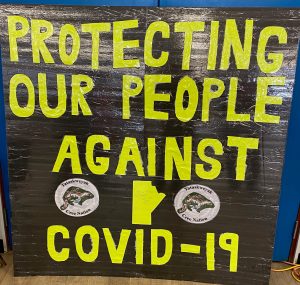 "Despite the fact that we are future owners of the Keeyask site, along with current partners, we feel we are being completely ignored," stated Chief Doreen Spence of the Tataskewayak Cree Nation. "Our community is right in the center of all this development as we are less than 50 kilometres away from the construction site. We also have community members working at this site. Manitoba Hydro has not abided by provincial public health measures since day one of the state of emergency in regards to operations at Keeyask. We are very frustrated here that Keeyask seems exempt from abiding by the state of emergency called in Manitoba and across Canada. Why is the Premier of Manitoba encouraging physical distancing but allowing this project to operate on a massive scale during a pandemic? We simply want to do all we can to protect Manitoba citizens who are vulnerable to the COVID-19 virus."
The ongoing frustration expressed by Tataskweyak leadership is the reason why the community of 2500 people is shutting down the North and enforcing a lock down within their territory, with the aim of stopping the spread of the COVID-19 virus to their community.
"Our community is in an extremely vulnerable position at this point. Our school roof recently collapsed, and the school was being set up as our quarantine and treatment site in case anyone were to be diagnosed with COVID. We don't have the infrastructure and resources to deal with an outbreak in our community," stated Councillor Nathan Neckoway of Tataskweyak. "The whole point of our lock down is to keep COVID out of Northern Manitoba. We do not want a repeat of what is happening in La Loche, Saskatchewan. We are trying to do everything we can to protect the safety and wellness of our citizens. As a sovereign Nation, this is our right."
"First Nations leaders have worked tirelessly to keep the COVID-19 virus out of the North in an aim to protect babies, children, youth, adults, and Elders. We are calling on Manitoba Hydro to do the same," said Grand Chief Settee.