"It is important to heal ourselves. We must do this work before we can heal our families and communities. Your future can be different from your past! Don't allow your past to limit you from living a positive life Creator has destined for you. Focus on your Creator-given strengths and gifts to change your current situations in a positive way. Only you can be the change you seek."
~Grand Chief Garrison Settee addresses inmates at the Headingley Correctional Centre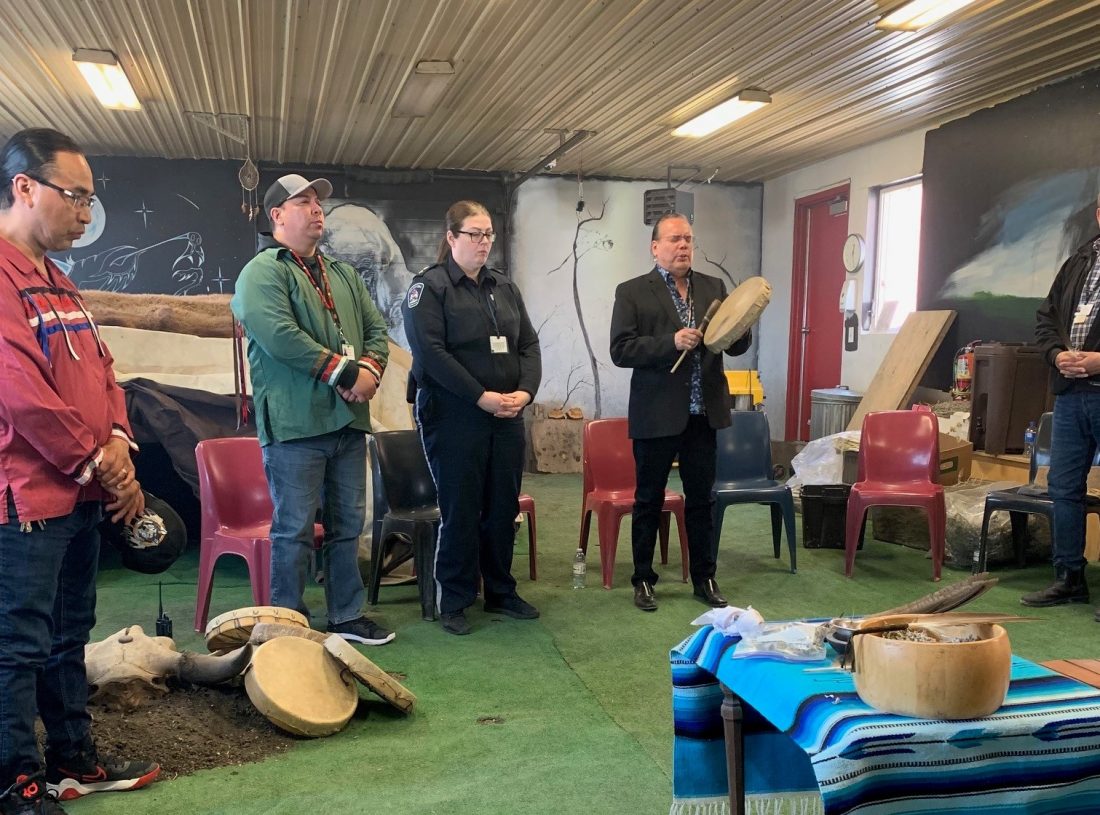 Manitoba Keewatinowi Okimakanak (MKO) Inc. Grand Chief Garrison Settee recently spent the day meeting with over 30 inmates and support staff at the Headingley Correctional Institution, a few minutes west of Winnipeg.
Knowledge Keepers facilitated sharing circles that opened with a prayer and a drum song. The inmates then had the opportunity to share their stories and thoughts with the Grand Chief, who closed the circles with his original drum song.
"Many of the inmates shared their personal journeys and how they ended up in the correctional system," reflected Grand Chief Settee. "Some men couldn't hold back their emotions while telling me about their childhood experiences of growing up around alcohol, drugs, and dysfunctional home environments. These lived realities left the men with a lack of hope for the future."
The Grand Chief returned to Headingley after first visiting the centre in December 2021. During his first visit, he took a tour of the centre and was limited in his ability to meet with inmates due to public health restrictions related to the COVID-19 pandemic.
When the Grand Chief first visited the correctional centre in 2021, he learned that there were 549 inmates in Headingley with 1680 inmates in all corrections centres in Manitoba. As of April 20, 2022, there were 498 inmates in Headingley. The Headingley Correctional Centre is nearly 100 years old; it was built in 1929.
Staff shared that between 70 to 75 per cent of inmates were Indigenous, with about 80 per cent of incarcerated youth being Indigenous. In the correctional centre in The Pas, 100 per cent of inmates were Indigenous.
While Indigenous people continue to be overrepresented within the justice system, they are underrepresented when it comes to employment. During the Grand Chief's first visit to Headingley, he learned that 14 percent of corrections staff are Indigenous in the Province of Manitoba. He also learned that a person doesn't need to have a grade 12 education to work in corrections. The Grand Chief encourages First Nations citizens to consider a career working in corrections. You can find more information about working in corrections here.
"There is a clear demand for access to cultural ceremonies, including sweat lodges. I was pleased to know that inmates of any background can access the sweat lodges. Our cultural practices can help everyone. I also know there is a hunger amongst the people in Headingley to learn their First Nations languages. It would be good to see an increase in the number of First Nations people working within these institutions as they can share their language and cultural knowledge with others," said Grand Chief Settee.
Elders and knowledge keepers who work in provincial jails are hired as staff. With three sweat lodges at Headingley, one of the knowledge keepers noted, "We need more Elders here." He has been conducting sweat lodges for the last 27 years.
The Reclaiming Our Identity Program and the Winding River Healing Program are two programs offered at Headingley that assist with rehabilitation. The Grand Chief heard from one inmate enrolled in the Winding River Healing Program who had shared that he was incarcerated his whole life. He didn't have access to cultural programs when in the youth centres and he thinks it would be good if they had access to this.
The programs at Headingley help people learn to ask for help. This is something the Grand Chief also heard from inmates living in Stony Mountain: "Don't be too proud to ask for help!"
Self respect and unconditional love for oneself is what the sweat lodge helps provide for the inmates. Staff noted that the sweat lodges also help to cool down the jail when it's "hot." There are sweat lodges at all the provincial correctional facilities except for the Remand Centre.
A corrections staff member noted, "Most people have no idea what happened with the residential school or the Sixties Scoop."
Naming ceremonies help to give direction to people and there is an Elder who assists the inmates in finding their spirit name at the sweat lodge. In addition to culture, education and employable skills are important aspects of rehabilitation.
"A recurring theme I heard during my visit to Headingley was that the majority of the inmates sadly have a personal family connection to the child welfare system and/or the residential school system," stated Grand Chief Settee. "The intergenerational trauma and the legacy of residential schools contributes to their life within the correctional system. Some men told me about the challenges they face when leaving the institution with a lack of community programs and supports to gain employment. Many of them end up being reincarcerated. Many of the men also shared that the access to cultural programming during their incarceration has been a pillar for change and healing."

"I shared a message of hope and encouragement for positive change during each of the sharing circles. I expressed the importance of embracing their warrior spirit, healing from their past, and focusing on a positive future," said Grand Chief Settee.
Participants expressed their gratitude for the Grand Chief's visit, sharing it provided them with a sense of hope for the future and a reminder that they are not alone nor forgotten. One staff member shared that it was the first time a sitting Grand Chief visited the institution in his 18 years of employment with corrections.
Grand Chief Settee plans to continue visiting correctional centres across the Province of Manitoba. He will continue to listen to MKO citizens living and working within these institutions to learn about ways MKO can support rehabilitation and reconciliation. MKO will also use this knowledge to advocate for improvements within the justice system.